Quest Fit is new at Ninja Quest! This program is geared towards those who are interested in functional fitness, strength building, and movement. The goal is to simply find fun in the fluidity of dance, build muscle through conditioning & improve overall fitness. There is no requirement for entry, and classes allow you to move at a pace that best serves your body!
Balance, Ballet, and Body Control
Sunday

6-7pm
​
Creative Movement
Sunday 7-8pm
Beginning October 11, Aptitude Dance presents beginner/intermediate dance for all! Imrpove your balance, grace, and body control through expressive movement! No expereince needed.
​
Balance, Ballet, and Body Control will focus on balance and controlling your body with precise moments through the use of ballet technique.
Creative Movement will put your body in motion incorporating styles such as contemporary, modern, lyrical, jazz, and more!
​
Ages 12 + | $10 Introductory Offer Per Class (cash or venmo)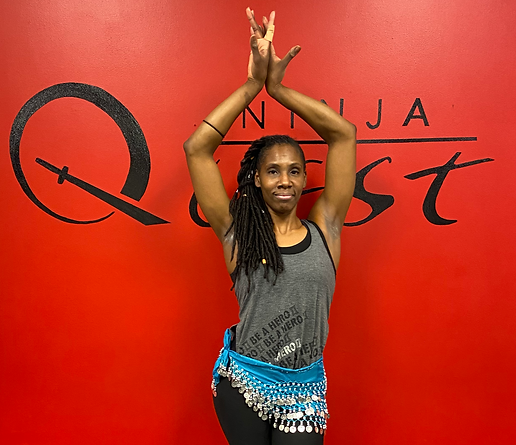 Beginning October 21, we invite you to join us Wednesday evenings from 7-8 to learn the foundations of belly dancing with American Ninja Warrior competitor, Jessica Clayton!
​
$20 drop in rate | $15 during October
OR
$59 Adult Monthly Membership that includes 1 class per week + Unlimited Open Gym
Open to anyone ages 16+.
​