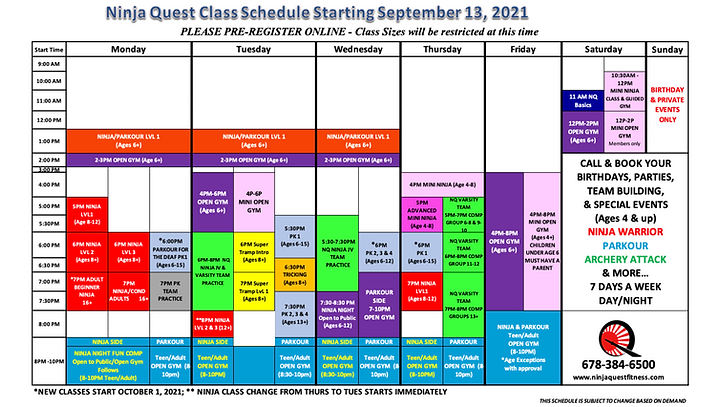 ​
First time with us? Please read this quick guide
​
Age Quick Guide
Mini Ninja classes: Ages 4-8 years old
Ninja Warrior classes: Ages 8 years+
Parkour classes: Ages 6 years+
Tricking classes: Ages 8 years+
Super Tramp classes: Ages 8 years+
Open Gyms: Please check the schedule below
Teen/Adult: Ages 13 years+
Adult: Ages 18 years +
​
Pre-requisites Quick Guide
Mini Ninja: N/a - please schedule your first class with Front Desk based on the schedule below
Advanced Mini Ninja: completion of Mini Ninja course with a Pass on the level Test
Ninja Warrior / Parkour / Tricking Level 1 classes: NQ Basics (1 class)
Super Tramp Level 1 class: must pass Super Tramp Intro
Any Level 2 or above class: Previous level test Pass (please see Front Desk about scheduling assessments)
Open Gym: Safety Walk Through (only given at the beginning of any hour of open gym)
​
WAIVERS must be completed before entering the gym. Please make sure to have the parent/guardian create an account with their email and add their dependents (use Waiver button above). Once the account and names are entered, you may electronically read over and sign our waiver. PLEASE DO THIS AHEAD OF TIME TO SPEED UP YOUR CHECK IN PROCESS. Failure to do so may cut into your scheduled time and we cannot extend appointments beyond their scheduled time. If you need help with the waiver and/or account online, please call us at 678.384.6500 or email info@ninjaquestfitness.com and we will be more than happy to help!
Please note: The Schedule is subject to change. Classes may also fill up and close due to safety class ratios. Please call Front Desk to verify activities & classes.
​
SHOWING UP FOR LATE CLASS 15 MINS OR MORE: You will not be allowed into class. All classes are structured with warm ups, stretches, techniques, etc that must be followed in its entirety for your safety. We appreciate your understanding.