​
Ninja Quest is proud to announce that we will be hosting the Quest Virtual School to help our families in all counties with monitoring their children (Grades 1st – 8th) with their virtual learning. We hope to provide the opportunity for parents to go back to work with confidence knowing their child is staying current with their schoolwork, safe and staying physically active. This program will be from 7:30am – 5:00pm Monday through Friday. There will still be classes for the traditional homeschoolers from 1pm-3pm for physical education points.
​
How are we different than other programs? We have a certified teacher ON-SITE Monday-Friday!

​
​
​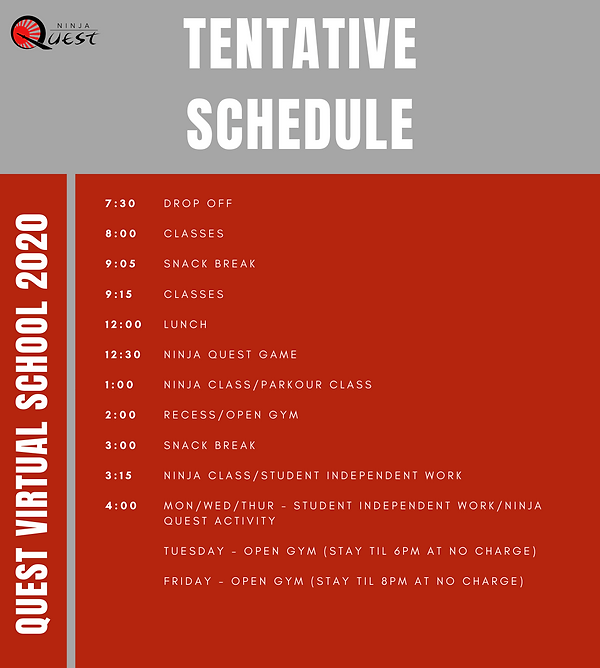 ​
Please bring your own snacks, beverage, and lunch. We do have snack concessions (no hot foods) available for purchase. On Fridays we will provide Pizza & Water/Powerade at no additional charge. It is imperative to be on time, schools are counting delayed access to students signing online program as tardiness.
​
​
​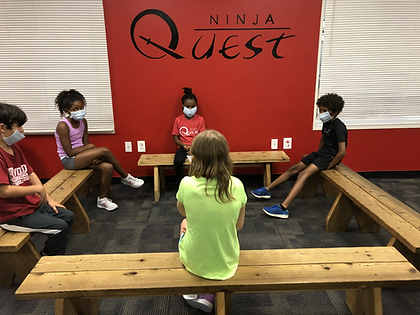 Daily Option:

$55/day
​
Weekly Option:

$250/week
(10% sibling discount)
​
Monthly Option:

$850/4 week
(call to enroll for monthly option)